The world's first Edge Programmable Industrial Controller. Now you can collect, process, view, and exchange data where it's produced—at the edge of the network. When you work with data at the edge, you don't have to worry about latency, and you have one single source of truth. Securely share data among databases, cloud platforms, web services, PLC systems, and other systems and equipment, using open, modern communication standards. Built-in security features include configurable device firewall, VPN, encryption, user authentication, and more. 
Connect with legacy PLCs and much more using Ignition Edge® Onboard or full Ignition from Inductive Automation®. Move data efficiently, decrease network load, and reduce IT reliance by using MQTT publish/subscribe communications.
Visualize data on the controller's integral touchscreen, an external HDMI monitor, or from any web browser or mobile device.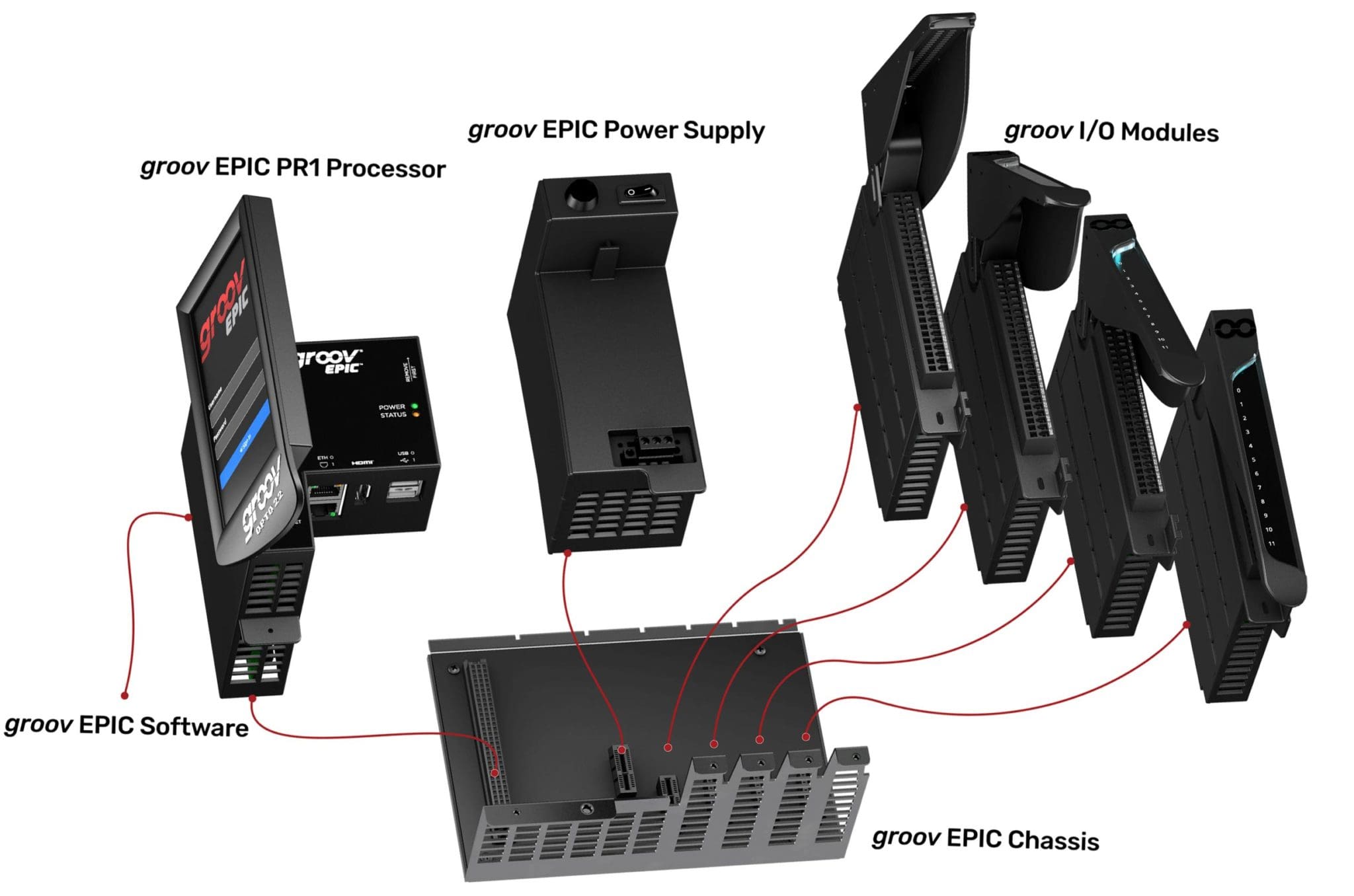 Program with the field-proven, flowchart-based, multi-chart control language PAC Control.
Use any IEC 61131-3 compliant language with the CODESYS Development System and CODESYS runtime.
Exchange data using the visual, flow-based editor and runtime Node-RED, with its free pre-built nodes for databases, web services, and more. 
Run your own C, C++, Java, Python, or other custom-developed application on an open, Linux-based automation system, using secure shell access. 
Stainless steel processor and I/O chassis with a secure, screw-down design
Industrial quad-core ARM processor and solid-state drive
Industrial high-resolution color touchscreen display
UL Hazardous Locations and Class 1 Div 2 approval
Wide -20 to 70ºC temperature range
ATEX compliance
Integral touchscreen for local configuration, commissioning, and troubleshooting—no PC required
Real-time, open-source Linux operating system
Multi-tasking real-time control engine
Dual independent Gigabit Ethernet network interfaces to help securely segment your control network from your business network
HDMI port for optional local monitor
USB ports for keyboard, mouse, Wi-Fi dongle, serial connections

Intelligent, hot-swappable, guaranteed-for-life I/O

Spring-clamp field wiring up to 14 AWG, with an integrated wireway and adjustable cover
Multicolor LED for I/O module quality, plus channel indicators for discrete I/O
Integrated power supply options
READY TO TACKLE YOUR APPLICATION